Star Trek Into Darkness Blu-Ray Review
I'm a Trekkie. Does that surprise anyone? When the first J.J. Abrams Star Trek came out in 2009, I saw it first day. When Star Trek Into Darkness came out, again I was there first day. Yeah, I already knew it's "big secret" but I didn't care. I was all for a new take on a classic. I've got Star Trek II: The Wrath of Kahn on my DVR and when I'm bored, I'll watch bits of it and when it gets to the end I'll hit 'Start Over' .
So.. yeah.. I like the Star Trek universe just a little. You can also read my review of the movie itself here:
Star Trek Into Darkness: A Review
Now I have the Blu-Ray. I'll admit I've not been keeping up with the news about it at all; just simply paying attention to the release date, and there was no mistake that I was going to have the Blu-Ray. I love the special features and to me that's what Blu-Ray is all about. Yeah DVDs have special features too, but most now-a-days just have the movie itself and nothing more.
When I opened up the package I looked over the back and saw several cool features, but wait.. Where was the movie commentary? Even the 2009 Star Trek's DVD had a commentary with it! Where were the deleted scenes?? BAH!
I started looking into this and was told that there were Retailer Exclusives. What??? Wait a minute.. That's low. To quote National Lampoon's Christmas Vacation: "That's pretty low, mister! If I has a rubber hose, I would beat you into a…"
So I found out the only way to get the audio commentary is to get the iTunes Digital Copy. More on this and the special features in a bit, for now, let's explore the package itself:
What I have is the Blu-Ray+DVD+Digital Copy.
The DVD
The DVD contains the movie itself. When popping it into my player it launches directly into upcoming dvd/blu-ray previews. You get: Anchorman 2, World War Z, and G.I. Joe 2.
The Main DVD Menu gives you 4 options; Play – Setup – Scene Selections – Previews
Play – you watch the movie
Setup – Audio Options – English 5.1 Dolby Digital – French – Spanish – English Audio Description
Setup – Subtitles – English – French – Spanish – Portuguese – None
Scene Selections – select which scene to watch
Previews – The Mission Continues (commercial for returning veterans and their continuing efforts for public service work) – Jack Reacher – Anchorman 2 – World War Z
The Blu-Ray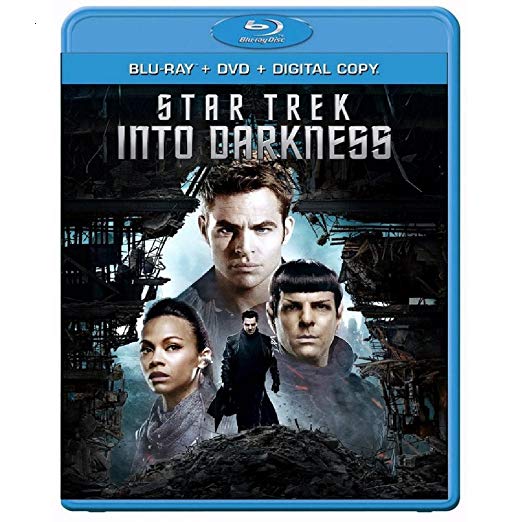 The Blu-Ray of Star Trek Into Darkness goes directly to the main menu screen and also offers 4 options; Play – Settings – Scenes – Extras
Play – you watch the movie
Settings – Audio – English 7.1 Dolby TrueHD – French 5.1 Dolby Digital – Spanish 5.1 Dolby Digital – Portuguese 5.1 Dolby Digital – English Audio Description
Settings – Subtitles – English – English SDH – French – Spanish – Portuguese – None
Scenes – select which scene to watch
Extras:
Creating the Red Planet: Cast & Crew show how they created the movie's opening Red Planet sequence.
Attack on Starfleet: Cast & Crew show how the attack in the meeting room was created.
The Klingon Home World: We get to see a deleted scene from the previous 2009 Star Trek in which there were Klingons.. I never knew of this until today – so that was cool. This feature shows how they made Kronos (or Qo'noS for you die-hards).
The Enemy of My Enemy: J.J. Abrams explains why Kahn was chosen to be in this movie, but that Kahn is not exactly the "main antagonist".
Ship to Ship: C&C show how they do the space flight from the Enterprise to the Vengeance.
Brawl by the Bay: The film's final battle scene, this shows how they pulled off the hand to hand combat between Spock and Kahn in San Francisco.
Continuing the Mission: Similar to the commercial that was found on the DVD this shows a little more "behind the scenes" and explains what The Mission Continues program is all about.
The Mission Continues: exact same commercial that was found on the DVD.
In all the extras on this blu-ray run a little over 40 minutes.. and that's it!
Remember a few lines up where I mentions "more on this and the special features in a bit" in regards to the audio commentary and well.. special features? Here is what I've found out:
This combo pack I have also comes with a digital download and from what I understand it does work with iTunes. Save this if you want some free extras. The iTunes download is going to be roughly 5gig; but it's also more than just the audio commentary. It's a picture-in-picture version of the film that also has behind the scenes footage and from what I've been able to find out the commentators will pause the movie and rewind it in spots to talk about it.
As for the special features on the blu-ray itself.. Remember also when I mentioned the words 'Retail Exclusive'? Yeah.. this part sucks..
There are several versions of Star Trek Into Darkness out there floating around that are on Blu-Ray. Depending on the retailer you get it from will also determine what special features you get. As best I can find out all of the special features listed above are on all versions of the Blu-Ray. I'll do my best to list the retailer exclusive extras (I just can't tell you what they are because simply put.. I'm not going to dish out more money just for that).
Best Buy Extras
NIF- Home of the core
Unlocking the Cut
Down With The Ship
Safety First
The Sound of Music and FX
Aliens Encountered
Target Extras:
Kirk and Spock
Mr. Spock and Mr. Spock
The Voyage Begins… Again
Rebuilding the Enterprise
Vengeance is Coming
Visual Affection
iTunes Extras:
Audio Commentary
WalMart Extras:
Vengeance Ship Toy
Limited Edition Villain SteelBook Package
Amazon Extras:
Starfleet Phaser Toy
I'm sure there are other exclusive and limited edition collector's sets out there and I've also heard that different countries are going to have even different extras on theirs. For me, it looks like I have the basic Blu-Ray and that's disappointing. I like the extras, I mean that's the reason I went with blu-ray to begin with but when someone decides to start doing retailer exclusives in hopes to get me to buy multiple copies of their movie just so I can have ALL of the extras.. well.. I'm just not going to do that.
For now I've got to give this Blu-Ray a 2 out of 5 due to it's lackluster of special features.
You can get it on Blu-ray here: