Magic. That's not exactly what this movie is all about, but yet, it is. It's all about misdirection. It's a mystery; a real whodunit.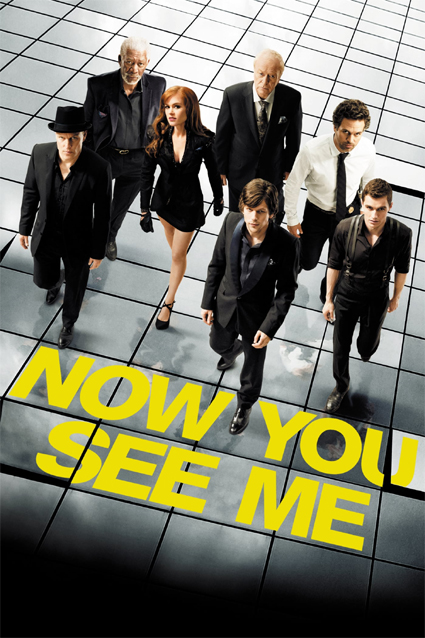 I realize that Now You See Me has been out for a couple of week, but it's one that I've been meaning to watch. I went to visit my friends up at my local movie box and plopped down to be entertained.
Another part of why it took me so long to get in to see it was the basic question that I had about it. Was it "real magic" (like what you would see in a Harry Potter movie) or was it "sleight of hand / illusion magic" (like what you would see at a Las Vegas show).
I'll go ahead and spoil that for you now; it's sleight of hand and illusion. Oh hey, don't get me wrong, I love watching magic shows just like the next guy. I'm the kind of person who likes to figure out how they do those tricks. But yeah, that's why I hesitated to see Now You See Me. I just didn't know what kind of movie to expect. Sounds strange I know.
Overall I did have fun watching it. It was clever, witty, fun, and didn't leave me walking out feeling like I just wasted my time. I am convinced that I should have seen this one when it first came out.
The only element that I could complain about was the use of CGI in the magic tricks. I understand why they did; but it would have given the movie a much more real feel (not to mention it would have made the magic that much more impactful) if the special effects were shot practically. I'm going to spoil one scene where this is a prime example; they flip a large purple sheet and it swirls all around the stage as if it is whipping in the wind, then it drops and a large stage prop appears under where the sheet was swirling. The sheet was entirely CGI. They really could have executed that better by using a real sheet with real movements. Stuff like that; the CGI wasn't over-used by any means, but when it was, I just felt they could have shot it practically to pull off a more convincing spot of magic.
The prevailing theme is; The closer you look, the less you see. And that certainly rings true. As I mentioned above, this is a whodunit film. It's a great mystery movie on its own merit. They harder you try to figure it out, the harder it will be for you to see what's actually going on.
Mark Ruffalo, Woody Harrelson, Jesse Eisenberg, Isla Fisher, Dave Franco, Melanie Laurent, Morgan Freeman, Michael Caine, and Michael Kelly top off this all star cast; and it delivers fun, mystery, and more fun. Go see it this weekend on the big screen. You'll be glad you did.
I give it 3.5 out of 5 stars.