It's been a few months since I've found myself in a movie theatre. This time of year gets to be very busy for me, however, today we decided to un-busy ourselves and hit our local movie theatre. Popcorn in hand, we made our way to be entertained.
Today's movie: Disney's Frozen.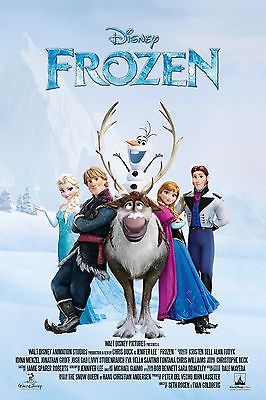 Based very loosely on Hans Christian Anderson's The Snow Queen, Frozen takes us on a journey into the Kingdom of Arendelle. Princess Elsa is born with the powers to create snow and ice and her younger sister, Princess Anna, loves the magic her sister can create. One evening all Anna wants to do is play with her sister, so the two sneak off into the main Ball Room and Elsa creates mounds of snow, Olaf the snowman, and slides of ice. Anna begins jumping faster and faster across the snow and ice, and begins to fall. Elsa tries to save her sister from falling but instead hits her with ice making her fall deathly cold. Elsa cries to her parents, the King and Queen of Arendelle, for help.
They take a freezing Anna to trolls, and ask them for help. Their Grand Pabbie is able to help, but warned that had the ice struck Anna in the heart she would have been frozen forever. He is able to mend Anna but in order to do so, he has to remove all memories of Elsa's magic from Anna's mind.
To further protect Anna from getting struck again by ice, the King and Queen explain to Elsa that she has to stop using her magic. Elsa is so scared of doing harm to her sister that she condemns herself to her room in the castle and refuses to ever play with Anna.
It's a heart-wrenching moment, that intensifies with the death of the King and Queen (they board a ship and are killed during a storm).
Years later Princess Elsa is of age to be made Queen. Anna wants desperately to be with her sister, but even now Elsa continues to push her away in order to protect her.
As more events unfold we see Queen Elsa exiling herself to the North Mountain. Anna goes in search of her along with an ice-merchant named Hans, but in trying to convince her sister to return, Elsa strikes Anna with ice, in the heart on accident.
Hans takes Anna to the same trolls as before and they tell him that her heart is slowly freezing, that she will eventually freeze solid. Grand Pabbie explains that only an act of true love can thaw Anna's heart.
An army is sent out to capture Queeen Elsa and in a battle upon a frozen fjord a sword blow threatens to kill Queen Elsa. Anna, giving disregard to herself, places her own life between the sword and her sister as she freezes solid as an icy blue statue. The sword strikes Anna's hand and shatters, knocking the attacker back.
Queen Elsa holds her sister and cries over what she has done. Then we see the color begin to emerge from the blue icy statue of Anna as she thaws and everyone is happy again.
As with most all Disney movies, this one also features song. I would almost have to say that it has the best songs in it since The Lion King. I'll also go on the record to say that yes, my eyes did tear up twice. Yes, this 40-year old guy, found his eyes watering over a cartoon.
I rather liked it, as did my children.
Frozen features voicing by Kristen Bell, Idina Menzel, Jonathan Groff, Josh Gad, Santino Fontana, among others.
We all give it 5 stars out of 5 stars.