Not sure how this one slipped by us, but we just discovered today the World of Warcraft Companion App (it was evidently released on April 16th). This is the app that replaces Blizzard's app from a few years back that gave you all kinds of cool features. Sadly they stopped supporting it, however, this new app appears to provide many of the features that the previous app had.
Upon logging in, it asks me to log in (makes sense), then asks me to select my character and finally it connects. Yes, you have to have an internet connection to make use of this app.
Once connected, you can: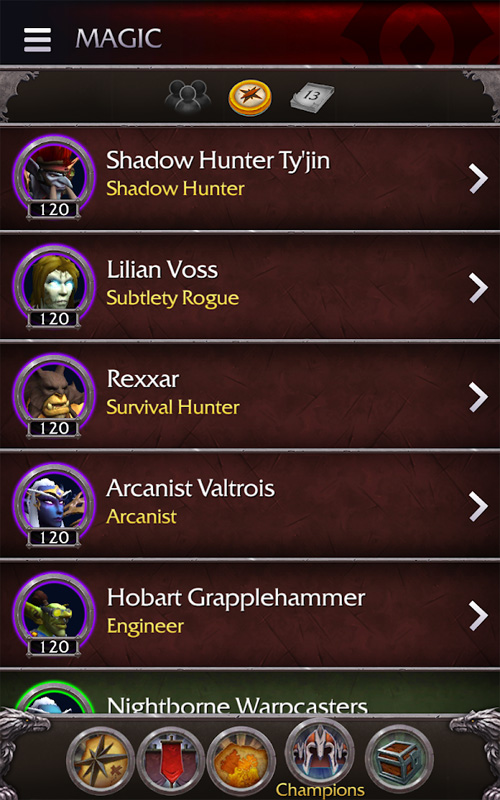 View your Missions (both what's available and what's in progress)
Recruit Troops for your missions
View the World Map to track World Quests (currently you can only view Kul Tiras, Zadalar, Darkshore, and Arathi Highlands)
View your Champions (the guys that go on your missions)
Research your 6 levels of
Access your Guild information and chat with your guild
Access your Community pages and chat with them
View a Calendar of Events of what is going on in game
There is a Compass you can tap that "refreshes" the screen
View your character and see what they are wearing
In the Settings Menu you can toggle on Sound Effects (all this does is make various sounds when you change screens) and Enable Push Notifications
The official Blizzard page for this app states the following:
The battle between the Horde and Alliance rages on, but even the most dedicated champions can't be at their computer all the time. To stay on top of all that's happening in Azeroth, download the free mobile app that lets players take World of Warcraft: Battle for Azeroth with you anywhere you go. From the app, you're able to:
Track World Quests: View active World Quests, emissary bounties, and available rewards from directly within the app-then plan your adventures for when you're in the game.

Manage Your Missions: Send your champions and troops out on missions for your faction, all while you're on the go. Collect rewards from completed missions, manage your champions, upgrade their gear, and recruit troops for future missions.

Fuel the War Campaign: Conduct research to unlock upgrades and track the status of your War Talent Tree, maintaining the momentum of your in-game progress.

Updated! WoW Community and Guild Chat: Stay in touch with your friends and guildmates wherever you go.

Updated! Calendar: Manage your personal, community and guild events, as well as view upcoming holidays.
Currently there is no Auction House feature, and while that was in the previous app, it would not surprise me if they added this feature in at some point.
There are also a handful of other features I'd love to see return, but for now, I'm happy with this. I'll use it, especially to access my daily missions.
The WoW Companion App is available on iTunes and in the Android Store.