First off… This is an ADULT film with ADULT humor (and most of it is vulgar). It's not one for the kids regardless of how many times they say that Hiccup is in it. It's not one for those easily offended. This Is The End features an all-star comedy cast; James Franco, Seth Rogan, Jay Baruchel, Jonah Hill, Craig Robinson, Danny McBride, among others. The unique angle is that they all play themselves.
Those who follow me know that I've had a rough month so far. AC in the house died; hot water heater blew up, car died, cable went out, all kinds of bad things have been going on. You could say I've been having a bad day. I really needed to hit my local movie theater, Carmike Oaks 7 in Batesville, Arkansas, and watch a good comedy to lighten my mood. This Is The End most certainly delivered. The short of it; I loved it, go see it. The long of it; read on…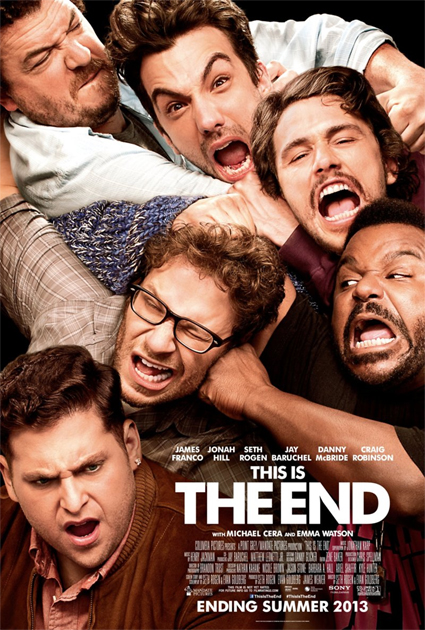 As the tale unfolds we learn that Jay and Seth have been long time friends since childhood and grew up in Canada. Seth moved to the States and made it big in Hollywood and made lots of Hollywood friends. He and Jay tried to keep in touch over the years, but each got busy with their own careers. This is actually not far from the truth as Seth explained to SiriusXM Radio Host Howard Stern this past Monday.
Jay arrives in Hollywood, hangs out with Seth, and head over to James Franco's house to really party. The Party features even more actors and comedians playing themselves (yes, yes, we all understand that they are all playing a character of themselves, over-the-top if you will). Emma Watson, Mindy Kaling, Rihanna, Michael Cera, and several others all seem to be in the good graces of James Franco.
Then all Hell breaks loose, literally. I don't want to spill any spoilers about what is to come, but suffice it to say this is perhaps one of the funniest movies I've seen in the past few years.
As I mentioned this movie is full of adult content. Sexual jokes, brief nudity, lots of drug use and reference, it's just not something I would take a kid to go see. That aside, I loved it. I think most readers of this site would find it right up their alley as well.
This week we also have Man of Steel due out. You may be hesitant to spend your hard earned cash on two movies. I would say… Indulge yourself. On this day give yourself a little present and go catch a double feature. This Is The End is by far super funny and is very much well worth it. I would almost venture to say that if it had come out on any other given weekend, it very well could have been the top selling movie.
I might just go see it again, it was that entertaining. I would recommend this movie to anyone who is a fan of fun.
I give it 4 out of 5.
Who knew the Apocalypse could be so funny?