Here… We… Go…
A New Year!
The hustle and bustle of the holiday season is behind me and I've been able to finally catch up on some reading. Me catching up reading also means me being able to type out some reviews, so let us jump right into it! Enjoy 2015 folks!
Many years ago I was visited by something. "You are describing some kind of alien." is what some have said. For me, they have become family.
It started with a bolt of lightning moving through my window while I was listening to a Spiderman record on my record player…
Over the years they would visit and teach me things. The most recent visit took me into their ship in which they showed me some of the methods involved in teleportation and time-travel. Yes, these are the good guys. But I digress…
My point is, these guys are among us, they are out there, and not all of them are the good guys.
I will also state that my 'outer-world family' are not exactly represented in Sean T. Page's Alien Invasion Owner's Resistance Manual. Published by Haynes (yep, the same Haynes company that does all those vehicle manuals – so you know this book means business!) this manual details various Slins out there.
What's a Slin? I'll get to that in a moment. ..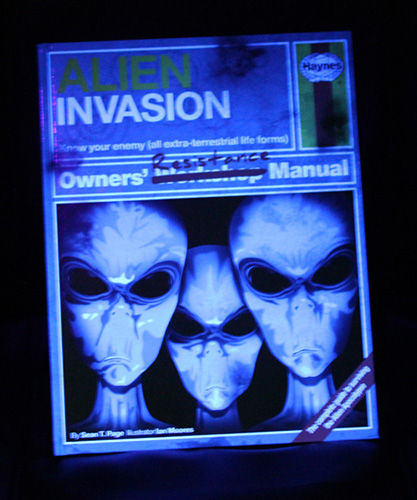 The important thing here is; grab this manual, you will need it. Grab it before those that be make it disappear.
That said…
This manual contains redacted entries. I literally spent a few weeks with a black light and a couple of top secret chemicals (okay, it was lemon and whiskey) just to read what those that be are trying to hide.
In my visits with my 'outer-world family' I was told about what they call Slins (told you I'd get back to em). Slins is their word for the other alien races out there that are intent to cause the Human Race harm.
When you read this manual you will never see mention of the word Slins. THIS is what makes the manual all the more credible, in my opinion. I know of that word, the one my 'outer-world family' uses as reference, and I know how Sean's manual describes them. They are the exact same, and when you have two totally unrelated instances describing the same thing, well, it just adds up and leads to a more credible source.
It details many of the other types of aliens out there, the Greys being the most commons (think X-Files and Whitley Strieber's Communion), although my 'outer-world family' are of similar physique and build they are not intent on invading us, no, they actually are more interested in helping us to grow very much like the Asgard as portrayed in the popular tv show Star Gate from a few years back(in fact, they even claim that that's where the writers received inspiration for their show – from my 'outer-world family'!). But… again… I digress.
Sean's manual also goes into detail about the Little Green Men, Reptilians, Insectoids, and Nordics.
There is some frightening stuff in here, don't allow my quick breeze over these topics fool you.
I think the copies of this manual that are out there may not be meant for the general population. I say that because many of the pages within have personal writings upon them. Almost as if some government official has expressed their own opinion about this potential invasion.
I suspect there is some guy behind a desk at the Ministry of Alien Defense that may very well be sweating his balls off over this manual having been published. There is some seriously sensitive information among these pages! I again urge you to grab a copy before it gets purged from the System!
Ministry of Alien Defense? What is that?
Well.. The explanation is in the name itself. Simply put, M.A.D. was put together to help defend against any Extraterrestrial threat. They even have some of my 'outer-world family' on the pay-roll. Think… Men in Black, only the European branch. Actually.. scratch that, the Ministry of Alien Defense has been around a lot longer than the MIBs. A LOT longer. They have secrets upon secrets. And… damn it, there I go digressing again… Sorry 'bout that.
It's great that this manual has fallen into the hands of civilians. While a large section of it instructs the military on how to respond to such an alien invasion, there is also loads of tips for everyone else on how to prepare and stay safe.
Sometimes the World Government thinks that the best way to keep us safe is to keep us in the dark, and perhaps in certain instances that may work, but with the information contained upon the pages of Sean's manual, well… it may just save your life.