Today is Monday, January 10th, 2022.
While we can't possibly cover all aspects of gaming news, these are a few things that we found particularly interesting.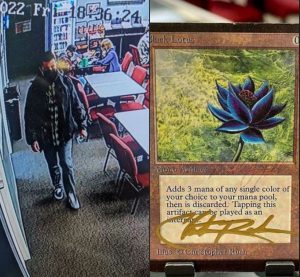 On the evening of Friday, January 7th, 2022, a signed beta Black Lotus was stolen from Finch and Sparrow Games, a local game store, in Signal Hill, California.
Finch and Sparrow Games asks that if anyone sees the card pop up on a trade group or auction site or recognizes the individual, to please contact them at 562-249-8172.
Last week at the Consumer Electronics Show Sony announced a new virtual reality controller called the Playstation VR2. It includes 4K HDR resolution; an O-LED display, eye tracking technology, and head tracking. While this VR is boasting to be cool, it wont mean much if players cannot find the Playstation 5 console to purchase.
The Razer Zephyr Pro is due out this year, a wearable mask, which is an upgrade from Razer's Zephyr. This is, of course, a smart mask, that filters the air using N95 filters. It is a heavily cyberpunk themed mask with RGB lighting, but the pro version also amplifies your voice by up to 60 decibels.
One thing is for sure, you will be noticed when you wear this in public!
Effective January 13th, just a few days from now, Microsoft and 343 Industries will be shutting down a few Halo Xbox 360 servers. While you will still be able to play the games in single-player mode, online multiplayer servers for Halo 3, Halo 3 ODST, Halo 4, and Halo Reach will be shut down.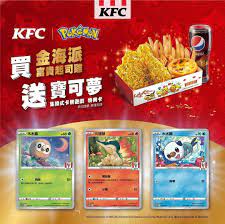 In CCG News; If you live in Taiwan, or keep an eagle eye out on eBay, KFC and Pokemon are teaming up. Yes, Kentucky Fried Chicken and Pokemon are teaming up in a promotion in. for a limited time, from January 11th until February 28th, in all of the KFC Taiwan locations, if you purchase a Chicken with Golden Seafood and Rich Cheese meal, you get 1 of 3 collectable KFC stamped Rowlet, Cyndaquil, or Oshawott cards.
In Table Top Role Playing News, HEAVY speculation is being talked about in subreddits and in hushed whispers behind closed doors and over the water-cooler
at work that Wizard's of the Coast will be releasing a 5th Edition version for Spelljammer, with sources citing the Unearthed Arcana playtest material,
Travelers of the Multiverse as it contains a few of the creature types from the Spelljammer setting.
Speaking of Wizards of the Coast, back in October Hasbro's CEO, Brian Goldner, passed away as to what some speculate to have been cancer. This week, Hasbro has tapped Wizards of the Coast's President, Chris Cocks, to take over as Hasbro's CEO on February 25th. No-one has been announced as taking over the President postion at Wizards as of yet, however Hasbro did say that they expect to name a new president for Wizards of the Coast in the coming weeks.
That's all we have for news today, If there is something newsworthy you would like to discuss please leave a comment below and… until next our paths cross… may your Rowlett not get covered in greasy chicken!