Today is Monday, December 27th, 2021
While we can't possibly cover everything newsworthy in the gaming world, these are a few bits we found particularly interesting.
Wizards of the Coast has announced a collaboration between Grammy-Nominated recording artist Post Malone and Magic: The Gathering.
This partnership will kickoff with the return of Friday Night Magic, an event played by millions of players across more than 8,000 stores worldwide every week.
When asked about this collaboration, Post Malone said:
"I'm obsessed with Magic: The Gathering. This is really a dream come true,

We'll be doing some cool stuff so keep an eye out."
I'm guessing a possible tie in with a Secret Lair Drop.
Speaking of Magic the Gathering, Wizards is also going full steam with their newest expansion, due out on February 18th Kamigawa: Neo Dynasty By providing us with a sneak peek at a new card; Satoru Umezawa.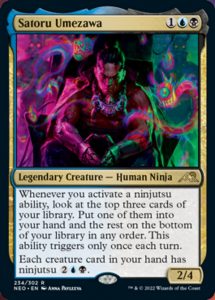 This is a legenday Creature, Human Ninja, is a 2/4 for 1 colorless, 1 blue, and 1 black mana.
Whenever you activate a ninjutsu ability, look at the top 3 cards of your library. Put one of them into your hand and the rest on the bottom of your library in any order. This ability triggers only once each turn. Each creature card in your hand has ninjutsu of 2 colorless, 1 blue, 1 black mana.
In Console news; it appears that Final Fantasy 16, for the Playstation 5, has been pushed out of a 2021 release. Naoki Yoshida, Final Fantasy 16 producer states that their plan is to provide a reveal in spring of 2022 to build excitement leading up to the game's eventual release.
In the Playstation 5 realm, it won't really matter too much when Final Fantasy 16 gets released as millions of people who want that console still are not able to obtain one due to supply issues.
Boba Fett is now in Fortnight.
Jumping over to Table Top Role Playing, Dungeons and Dragons is due to see a new Gift Set release on January 25th, 2022. This gift set was originally due to drop before Christmas of 2021, but due to covid related issues, that date was pushed back. The gift set will include 3 books; Xanathar's Guide to Everything, Tasha's Cauldron of Everything (both of those are updated with new errata) and a new book, Monsters of the Multiverse. Monsters of the Multiverse will see an independent release later in the year, but those wanting it early can get it via this gift set.
Let me know in the comments below if there is anything newsworthy you want to discuss, and until next our paths cross, may you find a Playstation 5!